Oil Buys Trump's Calm But Ignores the Storm
The U.S. commander-in-chief informed the nation on Thursday evening that a meeting he was having with military brass might be "the calm before the storm." President Donald Trump didn't elaborate, brushing off reporters' questions with a more-after-the-break response.
It's possible he meant nothing; you may recall he blithely undercut the $3.8 trillion muni-bond market this week with a choice remark about Puerto Rico's debt getting "wiped out." (Yeah? Nah.)
Yet there is a storm looming in the shape of a decision about the nuclear deal with Iran. On October 15, the administration must either re-certify that Tehran is complying with its terms and that the suspension of sanctions remains vital to U.S. national security — or not.
An oil market seemingly benumbed to geopolitics — prices slumped on Friday — risks being caught out by a crisis. Though not necessarily in the way that deadline suggests.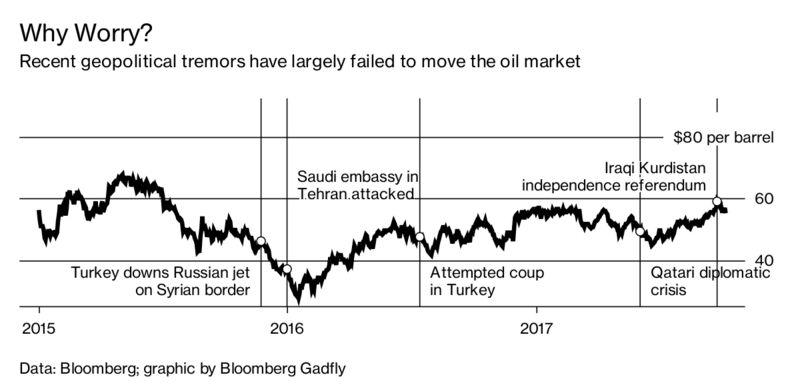 For all of Thursday evening's exercise in subtlety, the president has made it clear everywhere, from campaign rallies to the United Nations, that he's no fan of President Barack Obama's agreement with Iran.
Even so, a decision not to re-certify wouldn't mean an immediate breach. Instead, it would represent that most practiced of maneuvers in American politics: tossing the issue to Congress.
Legislators would then have 60 days to pass fast-track legislation — no filibusters — re-imposing sanctions on Iran.
Would they? Kevin Book of ClearView Energy Partners, a Washington-based research shop, points out that even Senator Tom Cotton doesn't appear firm on this timetable. Speaking at a Council on Foreign Relations event this week, the senator derided the existing deal as offering Tehran a helping hand when it was struggling, in contrast to his own approach:
One thing I learned in the Army is that when your opponent is on his knees, you drive him to the ground and choke him out.
Yet Senator Cotton also said he has "no intention" of introducing sanctions legislation on October 16. If this most hawkish of hawks isn't poised to do that, then, as with so much else this year, Congress may not do the White House's bidding.
While this means that, on its own, the October 15 deadline shouldn't necessarily jolt the oil market, it tees up a potential crisis in 2018.
The key date is January 12. That's when another deadline rolls around, this time for the president to continue waiving sanctions against Iran, as the U.S. is obliged to do under the deal. He could decide to not waive them regardless of what he does on October 15.
But, as Book points out, if Trump de-certifies the deal this month and Congress stands pat, then he may find it tough to not follow through on this particular campaign promise. That's especially true if he has just delivered, or is about to give, his first State of the Union without having made substantial progress on things like killing Obamacare, tax reform or that wall.
Remember, too, that the relationship between the White House and Foggy Bottom isn't exactly solid these days, however much the Secretary of State doth protest.
This would effectively breach the U.S. end of the deal, leading it to potentially unravel altogether by next spring.
This isn't the only possible path to that end. Helima Croft of RBC Capital Markets says the president might instead re-certify the deal this month, but only on condition that critical aspects of it get renegotiated. This chimes with Senator Cotton's remarks advocating for a period of "coercive diplomacy" rather than immediately reimposing sanctions.
Yet Iran's government appears unlikely to agree to big changes, in part so as not to lose face domestically, but also because the coalition that enforced sanctions so well in the years leading up to 2015 likely wouldn't hold. China and Russia are obvious spoilers. But even nominal allies in Europe, which account for half the recovery in Iran's oil exports, may be reluctant to follow America's lead: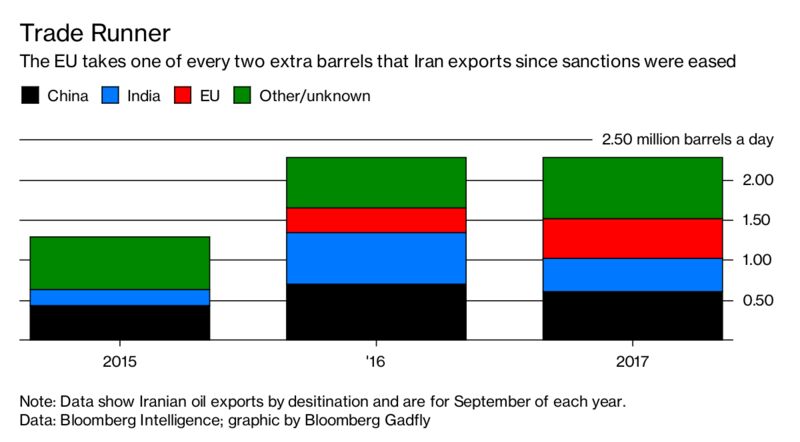 So there's a decent chance the deal collapses, but with the sanctions regime enforced unevenly. Europe's stance, in particular, may depend on who is ultimately blamed, the U.S. or Iran.
If so, Iranian barrels might not come off the market altogether but simply shift destination. Under this scenario, the squeeze could be felt more strongly over time, as U.S. sanctions deter investment by major international oil companies in expanding Iranian production capacity, forecast by the International Energy Agency to rise by 400,000 barrels a day by 2022.
A big question concerns whether companies less deterred by U.S. power could step in. Russia, which conducted petro-diplomacy from Venezuela to Iraqi Kurdistan this year and sure could use Iranian barrels for Rosneft PJSC's burgeoning Indian business, would be worth watching especially.
Don't discount the chances of more immediate and jarring impacts, though.
Remember, while Senator Cotton appeared more in favor of coercive diplomacy than immediate sanctions, the emphasis is squarely on "coercive." If the deal unravels, it would force the question of how the U.S. then addresses Iran's nuclear ambitions, opening a Pandora's Box of possibilities.
It's also important not to treat this issue, fraught as it is, in isolation.
Kurdish ambitions for independence roiled the oil market briefly last month, and the region threatens to become a new cockpit of rivalry for the U.S. and Iran — along with Russia, Iraq, Saudi Arabia, Turkey and Israel.
More broadly, as I wrote here, the geopolitical foundations of the global oil market — namely, the U.S.-led international order and the country's dependence on foreign barrels – look less certain than at any time since 1945. Signs of profound change are multiplying, the latest being the Saudi Arabian king's pilgrimage to Moscow this week (complete with a portable golden escalator).
So even if the oil market's calm extends beyond any action taken by the president in the next week or so, don't ignore those darkening clouds.
Read more: http://www.bloomberg.com/news/articles/2017-10-06/trump-iran-nuclear-deal-decision-could-rock-oil-markets