Venezuela to vote on constituent assembly after months of protests
Critics warn that a vote to create the 545-member assembly with power to rewrite constitution will damage democracy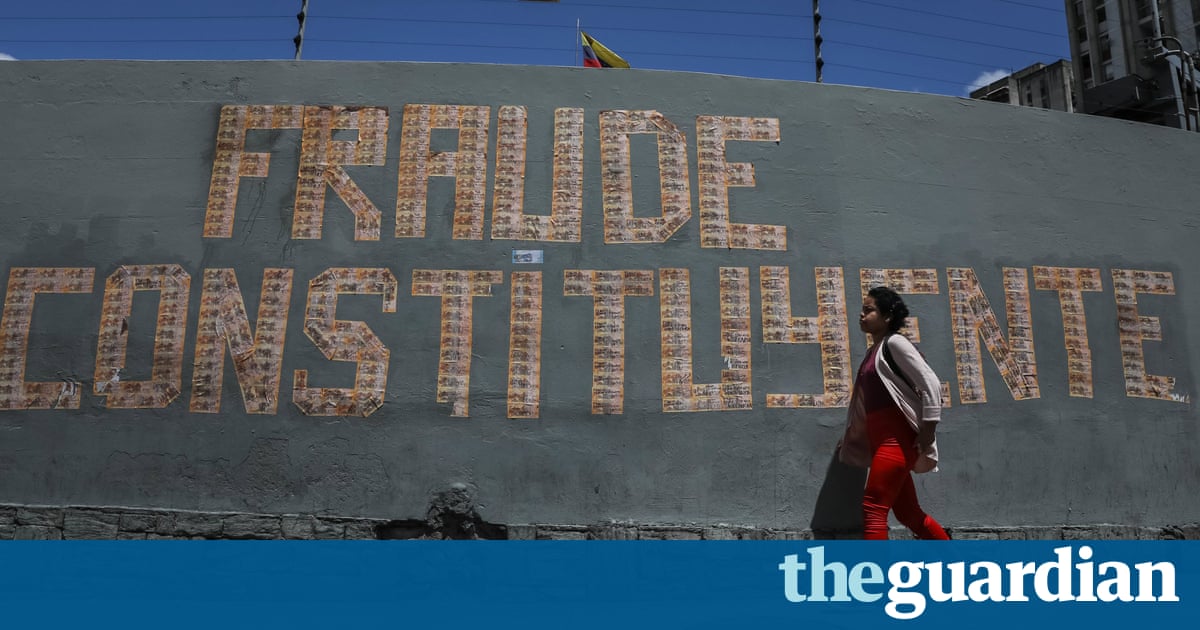 Venezuelas beleaguered government appeared prepared to go ahead with a vote on Sunday that critics at home and abroad have warned will seal the demise of the oil-rich nations democracy.
At least five people were killed last week after the opposition stepped up its protests against the controversial vote that will elect a 545-member constituent assembly with the power to rewrite the constitution and dissolve state institutions.
A government ban on public demonstrations in the run-up to the election reduced turnouts for nationwide protests called by the opposition, but sporadic looting and clashes between protesters manning barricades of tree branches and barbed wire were reported in several cities on Friday night.
Despite the continuing threat of repression, the opposition coalition, known as MUD, called for mass demonstrations in Caracas on Sunday while voting takes place.
Tomorrow we rebel, tweeted Freddy Guevara, vice-president of the opposition-held national legislature, whose power to legislate was hamstrung by a supreme court decision in April, prompting the protests.
At least 113 people have been killed, and more than 2,000 wounded, in constant street protests since April, triggering President Nicols Maduros decision to create the assembly.
Maduro has said the assembly will help bring peace to the sharply divided country where, despite its oil wealth, many Venezuelans are going hungry because of food shortages and spiralling inflation. But the opposition said it is little more than a power grab to consolidate the ruling socialist partys grip. It is boycotting the assembly and demanding general elections instead.
On 30 July, the constitutional assembly will happen, Maduro said. Ive been loyal to Chvezs legacy. Now its your turn.
An attempt at brokering an agreement by the former prime minister of Spain, Jos Luis Rodriguez Zapatero, to avert the increased tensions appeared to have failed. Zapatero issued a statement on Saturday tacitly acknowledging that the constituent assembly vote would be held, but calling on the assemblys powers to be limited and for firm dates for local and presidential elections to be set.
Today and tomorrow are transcendental for Venezuela, Zapatero said in the statement. He called on the government to make new gestures to help ease tensions but did not call for the vote to be cancelled.
The opposition also appeared resigned to seeing the vote take place. But we are not backing down because our problem is not the constituent assembly, it is the dictatorship, said Guevara in a statement.
What comes after Sunday will not be easy for us, he said, adding however that the deepening of the crisis will affect those in government much more.
But polls show that 70% of Venezuelans do not want a constituent assembly, although turnout on Sunday may not reflect that. To avoid an embarrassingly low turnout, government officials and pro-government neighbourhood committees have been warning that people who do not show up for the vote may lose their jobs, essential food subsidies or homes.
Delcy Leonor Medina, a 52-year-old housekeeper, said she and her neighbours in a working-class district of Caracas face the threat of armed muggings and murders.
Now they face an added threat of losing their government-subsidised homes if they dont vote. But she remained defiant. Im not giving that bastard anything. If the constituent assembly is voted in, I may have to leave here, she said.
Many of Venezuelas 2.8 million state workers have reported getting text messages, phone calls and being required to attend political rallies during work hours, according to Reuters.
Early on Saturday, the opposition coalitions website appeared to have been hacked, showing a message saying Yanquis, leave our America with a photo of the US president, Donald Trump. Hours later, the site showed a message reading Democracy cannot be hacked.
Cilia Flores, Maduros wife and a candidate for the assembly, said the new body with supra-legislative powers would create a commission to punish those responsible for the political upheaval. They will pay and learn their lesson, she said, playing on the fears of the opposition that they will suffer further persecution.
Diosdado Cabello, the first vice-president of Venezuelas socialist party, said the assembly will strip legislators in the opposition-controlled National Assembly of their immunity from prosecution. He said the office of Venezuelas chief prosecutor, who recently became one of Maduros most outspoken critics, would be turned upside down.
The US has led other nations in imposing targeted sanctions against 13 current and former officials close to the government. They were followed by similar measures by Mexico and Colombia.
US vice-president Mike Pence spoke by phone with opposition leader and political prisoner Leopoldo Lpez, sentenced to 14 years for inciting violence, charges human rights groups have said were trumped up. Pence told Lpez, who was transferred to house arrest earlier this month, that the United States stands with the Venezuelan people.
The Trump administration has threatened further measures if the vote goes ahead, which may target the countrys oil industry, one of the few economic lifelines left in Venezuela.
Colombias president Juan Manuel Santos, who is often the target of Maduros public rants of an international conspiracy against him, said he would not recognise the constituent assembly, which he called spurious.
In a tacit recognition of the growing humanitarian and political crisis, the Colombian government said on Friday it was granting a special permit for Venezuelans already in the country to remain for up to two years.
And more than one Venezuelan is preparing to pack his bags and join the growing number of people fleeing.
Carlos, a 24-year-old student at the Metropolitan University in Caracas, said most of his friends are leaving the country. His parents have said that if the constituent assembly is voted in, they want him to join them. I would lose my family, my home, my friends, my university, said Carlos, who declined to give his real name. But he also holds another fear. Im afraid of losing my country, he said.
Additional reporting by Ana Sofia Romero in Caracas.
Read more: https://www.theguardian.com/world/2017/jul/29/venezuela-government-maduro-vote-end-democracy