We wont accept a coup: groups unite to save beleaguered Dilma Rousseff
As the Brazilian presidents position weakens, an unlikely popular movement is rallying to her side and many of them do not support her party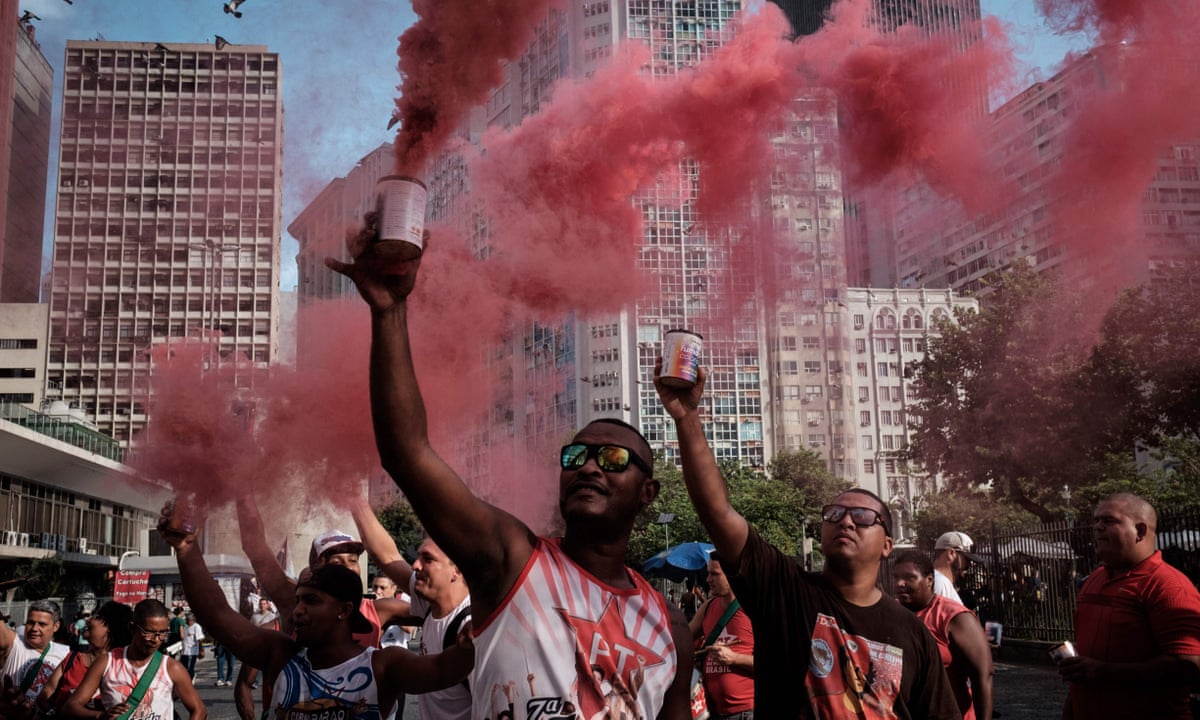 The song of a bygone struggle against dictatorship echoed through Brazils cities last week as trade unionists, social activists and musicians rallied against what they see as a coup against president Dilma Rousseff.
Geraldo Vandrs 1968 melody Pra no dizer que no falei das Flores (So they cant say I didnt sing about the flowers) harks back to an era of flower power and brutal military rule, but it has been revived in a very modern battle for the political soul of the country.
More than 100,000 demonstrators joined protests in dozens of cities on 31 March, a date chosen to mark the 52nd anniversary of the coup that deposed a democratically elected president and ushered in two decades of military rule.
In Rio de Janeiro, tens of thousands of people packed the Largo da Carioca square in a carnival-esque atmosphere that mixed music and caipirinhas with defiant political rhetoric.
On a stage, a variety of speakers returned again and again to the refrain No vai ter golpe (Theres not going to be a coup), occasionally adding the line: Theres going to be fight.
It was the most significant show of strength to date for the embattled Rousseff, and indicates that regardless of the momentum currently propelling the impeachment movement, neither her supporters nor their allies on the left will accept her removal quietly.
As well as a protest in its own right, the show of people power was also a rehearsal for what is expected to be bigger turnout on 17 April, when Brazils congress is due to began a plenary debate on whether to impeach.
It is not easy to defend an unpopular, impotent leader who has overseen the biggest economic decline in a century, political paralysis and a massive corruption scandal that has implicated many of her allies. Rousseffs approval rating was just 10% in the latest poll. Far larger anti-government rallies have called for her removal.
But many of those who took to the streets on Thursday said they were defending democracy rather than the president. Regardless of Rousseffs faults, they believe she was chosen by the electorate to serve a four-year term that is now threatened by a legally dubious impeachment threat.
Unlike many of the demonstrators, Kimie Shimabukuro, a 32-year-old biologist from So Paulo, didnt wear red the colour of the Workers party partly because she was afraid of violence and partly because she is unconvinced that Rousseff and her party are worth supporting.
She turned out because of her principles. Im against the coup. I think the impeachment will worsen the corruption situation in Brazil, she says.
Her friend, Ushi Arakaki, another Japanese-Brazilian, went further. I hoped for more from the Workers party. But even so, I am opposed to the opportunism of the opposition, which wants to get rid of a president who was elected by popular vote without a legal basis for impeachment. Thats why I consider this a coup.
This is a critical moment, Marcela Abrantes, a 43-year-old teacher, said. There is no proof that Dilma did anything to deserve impeachment. These are just manoeuvres being carried out by congress and the judiciary.
Technically, Rousseff faces impeachment for breaking Brazils law of fiscal responsibility by using funds from state-backed banks to temporarily mask the governments budget deficit ahead of the 2014 election. Although this practice was used by previous administrations, the presidents critics, led by the House Speaker, Eduardo Cunha, say the window-dressing of government accounts is grounds for impeachment. This has infuriated many voters, not least because Cunha is himself accused of the greater crime of taking $5m from a kickback scheme at the state-run oil company Petrobras.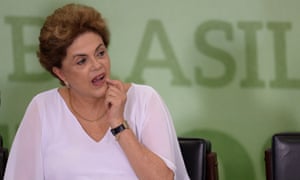 Read more: http://www.theguardian.com/world/2016/apr/03/brazil-beleaguered-rousseff-anthems-protests-fill-streets-impeachment